Bachelor's degree
A Bachelor's degree takes 3 to 4.5 years (180-240 ECTS) and gives access to further studies at master's level.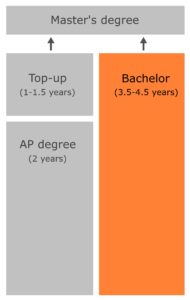 Study style
The AP degree programme takes 2 years (4 semesters) to complete and are combination of theory and practical projects individual and in groups.
Internship
As you know the experience counts more than qualifications in today's challenging economy. That's why an valuable part of your education is the opportunity to put theory into use and gain real-world skills by having internship.
The internship usually is 3 or more months work experience where student become part of a team at a company and have opportunity to try different tasks according to the education and individual competencies.

Internship + travel
Internship is a grate opportunity to stay 3 or more months abroad and gain cultural and international work experience at a company abroad. Many students choose internship in New Zealand, USA, Canada, China and different European countries. Often the internship company covers some living and traveling expenses.
Programme
Level
Years
University
City
Country
Tuition fee
(EU/EEA/CH)
Tuition fee
(Non-EU)
Study Start
Category
International Business
Ba, e-learning

3.5

Häme University of Applied Sciences - Campus Valkeakoski
Valkeakoski
Finland
€ 0
€ 0
Summer

Business

Smart and Sustainable Design
Ba

4

Häme University of Applied Sciences - Campus Hämeenlinna
Hämeenlinna
Finland
€ 0
€ 4 850
Mechanical Engineering and Production Technology
Ba

4

Häme University of Applied Sciences - Campus Riihimäki
Riihimäki
Finland
€ 0
€ 4 850
Summer
International Business
Ba

3.5

Häme University of Applied Sciences - Campus Valkeakoski
Valkeakoski
Finland
€ 0
€ 4 850
Summer
Electrical and Automation Engineerin
Ba

4

Häme University of Applied Sciences - Campus Valkeakoski
Valkeakoski
Finland
€ 0
€ 4 850
Summer
Construction Engineering
Ba

4

Häme University of Applied Sciences - Campus Hämeenlinna
Hämeenlinna
Finland
€ 0
€ 4 850
Summer

Engineering

Computer Applications
Ba

3.5

Häme University of Applied Sciences - Campus Hämeenlinna
Hämeenlinna
Finland
€ 0
€ 4 850
Summer

IT

Bioeconomy Engineering
Ba

4

Häme University of Applied Sciences - Campus Forssa
Forssa
Finland
€ 0
€ 4 850
Summer, Winter

Engineering

Materials Science Engineering
Ba

3.5

VIA Design - Campus Herning
Herning
Denmark
€ 0
€ 6 400
Summer
Euro-Asia Business Management SH
Ba

2

Shanghai Lixin University of Accounting and Finance - Pudong Campus
Shanghai
China
€ 1 300
€ 1 300
Summer
Euro-Asia Business Management DK
Ba

2

IBA International Business Academy - Campus Kolding
Kolding
Denmark
€ 0
€ 4 500
Summer
Value Chain Management
Ba

3.5

VIA University College - Campus Aarhus
Aarhus
Denmark
€ 0
€ 5 285
Summer

Business

,

Communications

,

Logistics and Transportation

Architectural Technology and Construction Management
Ba

3.5

VIA University College - Campus Aarhus
Aarhus
Denmark
€ 0
€ 6 571
Summer

Architecture

,

Technology

Global Business Engineering
Ba

4.5

VIA University College - Campus Aarhus
Aarhus
Denmark
€ 0
€ 6 777
Summer
Mechanical Engineering
Ba

3.5

VIA University College - Campus Horsens
Horsens
Denmark
€ 0
€ 6 571
Summer
Software Technology Engineering
Ba

3.5

VIA University College - Campus Horsens
Horsens
Denmark
€ 0
€ 6 571
Summer
Climate and Supply Engineering
Ba

3.5

VIA University College - Campus Horsens
Horsens
Denmark
€ 0
€ 6 571
Summer
Global Business Engineering
Ba

4.5

VIA University College - Campus Horsens
Horsens
Denmark
€ 0
€ 6 777
Summer
Value Chain Management
Ba

3.5

VIA University College - Campus Horsens
Horsens
Denmark
€ 0
€ 5 285
Summer

Business

,

Communications

,

Logistics and Transportation

Architectural Technology and Construction Management
Ba

3.5

VIA University College - Campus Horsens
Horsens
Denmark
€ 0
€ 6 571
Summer

Architecture

,

Technology

Civil Engineering
Ba

3.5

VIA University College - Campus Horsens
Horsens
Denmark
€ 0
€ 6 571
Summer
Export And Technology Management
Ba

3.5

UCN University College of Northern Denmark - Campus Hobrovej
Aalborg
Denmark
€ 0
€ 3 259
Summer
Architectural Technology and Construction Management
Ba

3.5

UCN University College of Northern Denmark - Campus Sofiendalsvej
Aalborg
Denmark
€ 0
€ 5 133
Summer

Architecture

,

Technology

Architectural Technology and Construction Management
Ba

3.5

UCL University College - Campus Odense
Odense
Denmark
€ 0
€ 6 385
Summer

Architecture

,

Technology

International Business
Ba, e-learning

1.5 – 6

IBA International Business Academy - Campus Kolding
Kolding
Denmark
€ 1 006
€ 1 006
Summer, Winter
Euro-Asia Business Management
Ba

4

IBA International Business Academy - Campus Kolding
Shanghai Lixin University of Accounting and Finance - Pudong Campus
Kolding
Shanghai

Denmark




China

€ 0
€ 1 300
€ 4 500
€ 1 300
Summer
Jewellery, Technology and Business
Ba

3.5

KEA Copenhagen School of Design and Technology - Campus Guldbergsgade
Copenhagen
Denmark
€ 0
€ 5 500
Summer
Business Economics and Information Technology
Ba

3.5

KEA Copenhagen School of Design and Technology - Campus Lygten 16
Copenhagen
Denmark
€ 0
€ 4 100
Summer
Architectural Technology and Construction Management
Ba

3.5

KEA Copenhagen School of Design and Technology - Campus PCG
Copenhagen
Denmark
€ 0
€ 6 100
Summer, Winter

Architecture

,

Technology

Financial Management and Services
Ba

3.5

Business Academy Aarhus - Campus Sønderhøj 7G
Aarhus
Denmark
€ 0
€ 3 500
Summer

Business

,

Marketing

,

Service

,

Tourism