Academy Profession degree
AP Degree is a good choice if you want to have a flexible and practice oriented education with an opportunity to continue your studies at higher level later on.
It's also a good choice if you want to divide your Bachelor's degree in two parts and study in two different countries or take a gap in between for work or travel.
AP Degree (Academy Profession Degree):
An AP degree program takes 2 years, divided into 4 semesters.
AP Degree + Top-up = Bachelor's degree
After 2 years students can continue their studies at a Top-up degree (1-1.5 years) and obtain a full Bachelor's degree, and later on Masters degree.
You can also choose to start working or take some years off to travel after AP Degree and continue your studies at Top-up Bachelor's degree later.
Benefits of AP Degree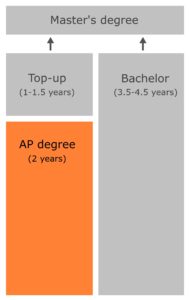 One Bachelor two countries
Many students choose to combine their studies between two countries – the first 2 years of the Bachelor's degree (AP degree) in one country and the second part (Top-up degree) in another country. Studying in different countries gives you the best opportunity to see the world, experience different cultures and make friends from different backgrounds.
You can also study the first 2 years in your country, and only the second part abroad. Read more about that here: Top-up Bachelor's degree
2 Bachelors in only 1.5 year
AP degree gives you also an opportunity to obtain 2 Bachelors in only 1.5 year, read more: Double degree
Flexibility
Besides the flexibility of combining the studies in different countries, you can also choose to take some years off to work or travel and continue your studies at higher level later on.
Some of the AP Degree programs even offers you several Top-up options allowing you to choose between different specializations within your study area.
Study style
Theory with practice
Teaching varies between lectures and project work in groups creating an exciting and creative study environment.
As a part of your studies there is also a 3-6 months work placement in Danish or overseas companies giving you the chance to apply your skills and knowledge in practice.
FOCUS ON TEAM WORK
Students work primarily in teams with different group projects learning to cooperate and work together in an international environment, which will be very beneficial later when searching for job in the current globalized job market.
Internship
As you know the experience counts more than qualifications in today's challenging economy. That's why an valuable part of your education is the opportunity to put theory into use and gain real-world skills by having internship.
The internship usually is 3 or more months work experience where student become part of a team at a company and have opportunity to try different tasks according to the education and individual competencies.

Internship + travel
Internship is a grate opportunity to stay 3 or more months abroad and gain cultural and international work experience at a company abroad. Many students choose internship in New Zealand, USA, Canada, China and different European countries. Often the internship company covers some living and traveling expenses.
Admission requirements
The admission requirements depends on your nationality and education background.
So please write in few words about you and what you would like to study and Study Start will guide you through the application process and help you to apply! Contact us
And remember – it`s totally free to apply trough Study Start!
Read more about the Admission here: How to apply
Programme
Level
Years
University
City
Country
Tuition fee
(EU/EEA/CH)
Tuition fee
(Non-EU)
Study Start
Category
Design, Technology & Business – Specialization in Fashion Design
AP

2

VIA Design - Campus Herning
Herning
Denmark
€ 0
€ 7 500
Summer
Design & Business – Specialization in Fashion Design
AP

2

VIA Design - Campus Herning
Herning
Denmark
€ 0
€ 7 500
Summer
Design, Technology & Business – Specialization in Branding & Marketing Management
AP

2

VIA Design - Campus Herning
Herning
Denmark
€ 0
€ 7 500
Summer
Computer Science
AP

2.5

Zealand Academy of Technologies and Business - Campus Roskilde
Roskilde
Denmark
€ 0
€ 4 430
Summer

IT

Marketing Management
AP

2

Zealand Academy of Technologies and Business - Campus Roskilde
Roskilde
Denmark
€ 0
€ 4 362
Summer
Commerce Management
AP

2

Zealand Academy of Technologies and Business - Campus Næstved
Naestved
Denmark
€ 0
€ 3 650
Summer
Service, Hospitality and Tourism Management
AP

2

Zealand Academy of Technologies and Business - Campus Køge
Koge
Denmark
€ 0
€ 4 362
Summer
Logistics Management
AP

2

Zealand Academy of Technologies and Business - Campus Køge
Koge
Denmark
€ 0
€ 4 362
Summer
Multimedia Design and Communication
AP

2

Zealand Academy of Technologies and Business - Campus Køge
Koge
Denmark
€ 0
€ 4 362
Summer
Construction Technology
AP

2

VIA University College - Campus Aarhus
Aarhus
Denmark
€ 0
€ 7 550
Summer
Marketing Management
AP

2

VIA University College - Campus Horsens
Horsens
Denmark
€ 0
€ 5 500
Summer
Construction Technology
AP

2

VIA University College - Campus Horsens
Horsens
Denmark
€ 0
€ 7 550
Summer

Technology

Service, Hospitality and Tourism Management
AP

2

UCN University College of Northern Denmark - Campus Hobrovej
Aalborg
Denmark
€ 0
€ 3 311
Summer
Marketing Management
AP

2

UCN University College of Northern Denmark - Campus Hobrovej
Aalborg
Denmark
€ 0
€ 3 311
Summer
Multimedia Design
AP

2

UCN University College of Northern Denmark - Campus Sofiendalsvej
Aalborg
Denmark
€ 0
€ 4 657
Summer
Design, Technology and Business (Graphics)
AP

2

UCN University College of Northern Denmark - Campus Sofiendalsvej
Aalborg
Denmark
€ 0
€ 5 224
Summer
Computer Science
AP

2.5

UCN University College of Northern Denmark - Campus Sofiendalsvej
Aalborg
Denmark
€ 0
€ 4 768
Summer

IT

Automation Engineering
AP

2

UCN University College of Northern Denmark - Campus Sofiendalsvej
Aalborg
Denmark
€ 0
€ 5 602
Summer

Engineering

Service, Hospitality and Tourism Management
AP

2

UCL University College - Campus Vejle
Vejle
Denmark
€ 0
€ 3 975
Summer
Logistics Management
AP

2

UCL University College - Campus Vejle
Vejle
Denmark
€ 0
€ 4 850
Summer, Winter
Service, Hospitality and Tourism Management
AP

2

UCL University College - Campus Odense
Odense
Denmark
€ 0
€ 3 975
Summer
Marketing Management
AP

2

UCL University College - Campus Odense
Odense
Denmark
€ 0
€ 3 975
Summer
IT Technology
AP

2

UCL University College - Campus Odense
Odense
Denmark
€ 0
€ 7 000
Summer
Multimedia Design and Communication
AP

2

IBA International Business Academy - Campus Kolding
Kolding
Denmark
€ 0
€ 5 000
Summer
Marketing Management
AP

2

IBA International Business Academy - Campus Kolding
Kolding
Denmark
€ 0
€ 4 500
Summer
Marketing Management
AP

2

Dania Academy of Higher Education - Campus Viborg
Viborg
Denmark
€ 0
€ 4 100
Summer
IT Technology
AP

2

Dania Academy of Higher Education - Campus Viborg
Viborg
Denmark
€ 0
€ 6 000
Summer
Automotive Management
AP

2

Dania Academy of Higher Education - Campus Viborg
Viborg
Denmark
€ 0
€ 6 750
Summer
International Hospitality Management
AP

2

Dania Academy of Higher Education - Campus Randers
Randers
Denmark
€ 0
€ 4 100
Summer

Business

,

Marketing

,

Service

,

Tourism

Service, Hospitality and Tourism Management
AP

2

Dania Academy of Higher Education - Campus Randers
Randers
Denmark
€ 0
€ 4 100
Summer
Marketing Management
AP

2

Dania Academy of Higher Education - Campus Randers
Randers
Denmark
€ 0
€ 4 100
Summer
Production Technology
AP

2

KEA Copenhagen School of Design and Technology - Campus Guldbergsgade
Copenhagen
Denmark
€ 0
€ 6 200
Summer
Multimedia Design
AP

2

KEA Copenhagen School of Design and Technology - Campus Lygten 16
Copenhagen
Denmark
€ 0
€ 5 400
Summer
Design, Technology and Business
AP

2

KEA Copenhagen School of Design and Technology - Campus Guldbergsgade
Copenhagen
Denmark
€ 0
€ 6 000
Summer
Computer Science
AP

2.5

KEA Copenhagen School of Design and Technology - Campus Lygten 37
Copenhagen
Denmark
€ 0
€ 5 500
Summer

IT

Computer Science
AP

2.5

Business Academy SouthWest - Campus Sønderborg
Sønderborg
Denmark
€ 0
€ 4 480
Summer

IT

Multimedia Design and Communication
AP

2

Business Academy SouthWest - Campus Esbjerg
Esbjerg
Denmark
€ 0
€ 5 100
Summer
Computer Science
AP

2.5

Business Academy SouthWest - Campus Esbjerg
Esbjerg
Denmark
€ 0
€ 4 480
Summer

IT

Marketing Management
AP

2

Business Academy SouthWest - Campus Esbjerg
Esbjerg
Denmark
€ 0
€ 3 950
Summer
Multimedia Design
AP

2

Business Academy Aarhus - Campus Ringvej Syd 104
Aarhus
Denmark
€ 0
€ 5 500
Summer
Marketing Management
AP

2

Business Academy Aarhus - Campus Sønderhøj 30
Aarhus
Denmark
€ 0
€ 4 000
Summer
IT Technology
AP

2

Business Academy Aarhus - Campus Sønderhøj 30
Aarhus
Denmark
€ 0
€ 6 500
Summer, Winter
Chemical and Biotechnical Science
AP

2.5

Business Academy Aarhus - Campus Hasselager Allé 8
Aarhus
Denmark
€ 0
€ 6 600
Summer

Chemistry